This page is my guide to Newcastle-upon-Tyne and the surrounding area.
Consider it a work in progress as I will be adding a lot more to this page in the coming weeks. This page will end up a complete guide to Newcastle so if you need to know anything about Newcastle you will be able to come straight here.
Feel free to submit any links about Newcastle to me and I will stick them up here.
Map of the city centre. Click for biggery.
1910 Map of Newcastle on Tyne
1902 Map of Newcastle on Tyne

Local Media
The Evening Chronicle
The Journal
This is the North East
Tyne Tees TV
BBC/Tyne
BBC - Look North
BBC Radio Newcastle
Metro Radio
Travel
Newcastle International Airport
GNER
. Trains
Tyne and Wear Metro
Shields Ferry
BBC Travel News
Traveline North East
. Public transport information
Shopping
Eldon Square Shopping Centre
Monument Mall
Gateshead MetroCentre
Newcastle Arts Centre
Markets
Parks
Brandling Park
Elswick Park
Gala Field - Newbiggin
Hodgkin Park
North Kenton Park
Nunsmoor Park
Museums and Galleries
Discovery Museum
Hancock Museum
Segedunum Roman Fort, Baths and Museum
Stephenson Railway Museum
Laing Art Gallery
Side Gallery
BALTIC The Centre for Contemporary Art
Life Science Centre
Museum of Antiquities
Military Vehicles Museum
Shefton Museum
.
Music Venues
Metro Radio Arena
The Sage Gateshead
Newcastle City Hall
Carling Academy Newcastle
Foundation
Local Photography
My Photographs Of Newcastle
Capture Newcastle
Mike Kipling.com
Pictures of Newcastle
Dave Robinsons Page
Tyneside Life And Times
Graeme Peacock.com
Shades Of The Past
Monkchester.co.uk
Steve Ellwood.org.uk
Sine.ncl.ac.uk
Fresh Page Photography
Side Photographic Collection Online
E.J.R. Photography
Tyne-Photos.co.uk
Byker photography exhibition by Sirkka-Liisa Konttinen. Click more under the photos on the right.
VR Newcastle - Guide to Newcastle upon Tyne
Turning a new page in history
. A slideshow of of old photos of the central library.
Building the Tyne Bridge photography exhibition
Scotswood Road photography exhibition
. Working class community in Newcastle upon Tyne, photographed in 1950s/60s by
Jimmy Forsyth
.
Entertainment
The Burglar's Dog
. Pub reviews
The Gate
. Odeon cinema and restaurants.
Theatres
. Schedules and show reviews.
The Tyneside Cinema
Sports and Leisure
Newcastle United
. Football
Newcastle United Fan Sites
Newcastle United Wallpapers
St. James Park Photos
Bowyer and Dyer Fight Video
Newcastle Falcons
. Rugby
Newcastle Eagles
. Basketball
Brough Park Dogs
Newcastle Diamonds
. Speedway
Newcastle Vipers
Ice Hockey
Newcastle Racecourse
Webcams
Look North webcam
Tyne Bridge Web Cams
Video Clips
BBC - Nation on Film - Tyne Bridge - Construction
Newcastle Evening Chronicle Advert Video
All Saints Church
Byker
Central Station
Millenium Bridge Opening
Swing Bridge
Funny Stuff
The House of the Orange Monkey - Mr Monkey in the North-East
Newcastle Stuff
Viz
Andy Capp comics
The Grand Catalog of Conrad Bladey's Beuk of Newcassel Sangs
Geordie Songs
. Anti-Mackem MP3's to download
windaz 2 thoosand
. Windows for Geordies.
Geordie Blogs
TimStabler
Our Man In Hanoi
Bifurcated Rivets
This Too Will Pass
SpaceHardware
NewLinks
SilentWordsSpeakLoudest
A day in the life of CH
Ray Marshall - Tyne of our Lives
. Ray is the local history expert at the Newcastle Evening Chronicle and has amongst other things a weekly page dedicated to
"Remember When - A Blast From The Past"
History
Newcastle Past and Present
The Official Hadrian's Wall Country Website
Myers Newcastle Time Line
A Record of the Great Fire in Newcastle and Gateshead
published in 1855 at Google Books. Free .PDF download as well.
NE History
A Vision Of Newcastle
Literary and Philosophical Society
The Great North
.
Dialect/Accent
BBC - Voices
A humorous conversion of English to Geordie
Geordie Phrases
.
Some more
Newcastle English (Geordie)
The New Geordie Dictionary
Administration
Newcastle City Council
Northumbria Police
Other Stuff
A Virtual Tour of Tiled Newcastle upon Tyne
Newcastle Brown Ale cheddar soup
Ouseburn Valley Heritage - A Chronology
Tyne Bridges
Newcastle Tall Ships Race 2005
Folk Archive Resource North East
Byker Cully Tour
(Link fixed)
Tyne & Wear Graffiti (2006)
,
Tyne & Wear Old-Skool Graffiti
and
Flickr: North East Graffiti
photosets from Flickr.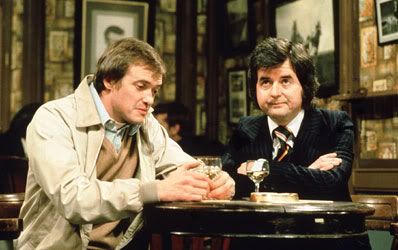 Having all solved all of Newcastle's problems the council have now decided to ban the use of certain Geordie words. Banned! 'Hinny' 'Pet' 'Love'
Newcastle Brown Ice Cream
Newcastle: Definition and Much More From Answers.com
.
Newcastle Brown Homepage
.
Get Carter - Behind the scenes
A short article about the making of get Carter here on Tyneside with a few more interesting links at the bottom of the page.
Get Carter Tour
. Locations from the original film set on Tyneside with some of compared to modern day photos of the same area.
Tyne Advantages
. Scans of a 100 page promotional booklet published by the Newcastle and Gateshead Chamber of Commerce in about 1908.